Nickoll, Maja
Erfahrungsberichte > Archiv
Anm.d.Red.: Dieser Artikel wurde veröffentlicht in der Alumni-Zeitschrift AIM, Ausgabe 1/14
Huancarani 26.08. - 20.09.2013
Discovering other countries and exploring the world has always been part of my life. In school, I wanted to become an archaeologist to detect hidden pyramids. After high school I switched my subject from past to present and studied dentistry in Göttingen/Germany. Without loosing a year its not possible to visit an other university or travel outside the holidays. So I graduated from Uni in 2010 and started to live my dream. At first I went to Thailand, later Philippines and, of course, Egypt.
Combining Travelling with Work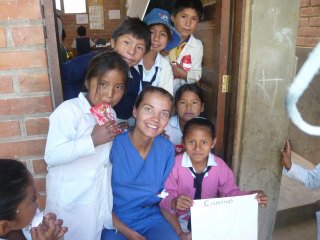 I visited awesome cities, met great people, went through temple complexes and relaxed at wonderful beaches. After 3 years of working I wanted to combine work and traveling for the first time and went 8 weeks to SouthAmerica. After a stopover in New York I arrived in Cusco/Peru to visit some Inka ruins and take some Spanish lessons. SouthAmerica without speaking any Spanish wasn't a good plan but after one week intensive lessons with Lydha from Proyecto Peru the world changed and I was able to ask all the important stuff in life! Learning Spanish was so much fun - ultimately because of a nice Australian boy who lived in my host-family aswell.After school we used our new knowledge on markets and the communication with our hosts went better from day to day. And at least once a day a Pisco Sour – which is a typical kind of alcoholic drink in Peru - to stay healthy.The course was over and we traveled on to lake Titikaka and spent some days on a small island called Taquile - no tourists, a few alpacas and a lot of silence. It was awesome.
Voluntary Work in Bolivia
But 2 days later there was a new challenge: a 2-day-bustrip from Puno/Peru to Cochabamba/Bolivia. The roads are 'exciting' and you share the bus with a lot of luggage and sometimes some chicken on the roof. Arrived in Cochabamba, it took another 20minutes ride to Huancarani - a small village next to the famous Panamericana Road in the north of Bolivia.I worked for 4 weeks in a new founded dental practice, which was part of the Huancarani foundation. It's a project to support the small village with knowledge for health and education. Volunteers are working at the childcare, explaining homework and teaching English. The volunteers are living in a fully furnished flat on the terrain of the foundation. They have warm water heated by the solar system on the roof and a gasfurnace in the kitchen to prepare good meals. For the future it's planed to have a complete medical station with a nurse, constantly swiss doctors and german dentists
More information on www.pro-huancarani.ch or www.fcsm.org
What we Did
The practice was completely furnished and filled with a lot of donated materials, which helped us a lot to do a good work. We - that was Mila, a German dentistry student, and me, - worked for fixed response times from Monday to Friday but soon we found out, that Monday is an extension of the weekend and Friday aswell. So we started to work on call and the rest of the time we enjoyed the Bolivian winter with 25 to 30 degrees. We treated a lot of children, pulled a lot of teeth, but also filled them. The treatment cost 10 Bolivianos (about 1,5 UDS) for 2 fillings or 2 extractions for adults, for children the handling was free. If there was a lot do do they also had to pay 10 Bolivianos and they got a toothbrush aswell. The health of the milkteeth is bad and often teeth had to pull out which causes dental deformity ? . In one case a young girl wanted to get pulled out a healthy canini because it was spoiling her smile. After explaining her that she had to go to an orthodontist to get her teeth fixed she refused and said that this is too expensive and the doctor in the next village may extract the tooth.
The problem is not that there are no dentists in this country on the contrary you can find on every corner of bigger villages a dentist office but most of the people don't have the money to go there. Mostly they wait until the tooth has to pull out. The don't understand why a tooth should get treated that doesn't hurt.
We also started to introduce prophylaxis at the childcare and the local school and explained the function and type of teeth. Of course we brushed teeth together on the schoolyard.Unfortunately there is only a little understanding for health, in particular for the health of every single tooth. The children often get no breakfast or lunch from home, so they get sweetened milk and cookies in the school. The favorite drinks of all Bolivians are soft-drinks all day long - they don't understand why they should buy water in bottles - that's only for cooking. Generally. There is a lack of drinking water in this region of South America and there is still a lot of volunteer work to do.
Summary
It was fun working in Bolivia and making the experience to get to know the life in another country. Now, back in Germany, I'm missing the peace and serenity of the Bolivian people with no paperwork in the end of the day. I hope that I can go back one day and maybe extend my stay. The bolivian people are very friendly and helpful but you have to know that everything is going slower. Tomorrow is mostly next week but life is definitely more relaxed over there….
Maja Nickoll
1986 geboren, Examen 2010, aktive Fachschaftlerin Uni Göttingen, 6 Jahre aktives Vorstandsmitglied BdZM, jetzt Arbeit in Kammer Hessen, Beirat BdZA, lebt und arbeitet in Göttingen